Bora-Care
Product Brief:
Bora–Care is a combination of the naturally found mineral borate and a patented mixture of glycol based components. These easily absorb into the porous fibres of wood and draw the borates with it to control dry wood termites. In addition, this patented product provides you with a low toxicity solution and it can be used with confidence in and around any property residential or commercial. Bora-Care is also effective to control carpenter ants, powder post beetles and old house borers. It can also prevent growth of algae and wood decay fungi.
Method Of Application
Bora-Care is applied directly onto wood surfaces, concrete, plumbing penetrations, expansion joints and foundation penetrations. It remains in the wood for the lifetime of the wood. The need for retreatment is eliminated by keeping the wood sealed or protected from moisture as in the wall voids of a structure. It only needs to be applied once. It can also be used on ocean front, riverside or lakeside homes where soil termiticides may be prohibited.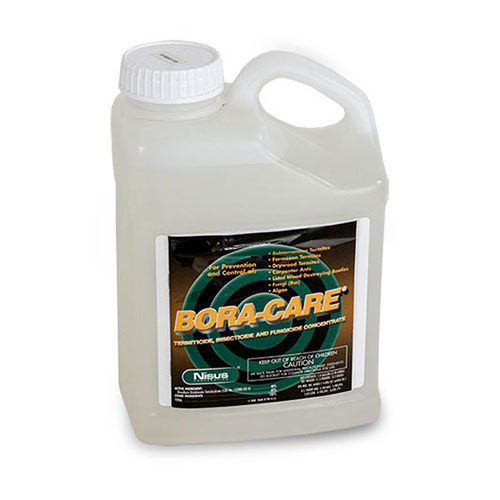 Termite Bait Stations
Product Brief:
Xterm™ is a termite baiting system which is created based on termite behavioural studies which show that termites selectively choose and forage the most tasty cellulose product first. Xterm™ is available for use in homes (Above Ground station) and on the land around your property (Inground Station). Baits have been shown to have the best effectiveness compared to other classes of termite control products as it is able to be transferred from worker termites to the rest of the colony. This allows Xterm™ to potentially be spread far away from the point of application which is not possible for chemicals and dusting powder.
Method Of Application
The bait attracts termites to the bait stations to feed even when there is a plentiful supply of alternative foodstuff in the area. The slow acting insect growth regulator within Xterm™ is then taken back to the nest and spread throughout the colony before taking effect. This allows the bait to reach even the Queen and the King. In other words, Xterm™ targets to the heart of the colony. Xterm™ offers a professional looking and cleaner, non-messy formulation that is easy to install, service and monitor.
Special Note: Available through Authorised XTERM Strategic Partners Only