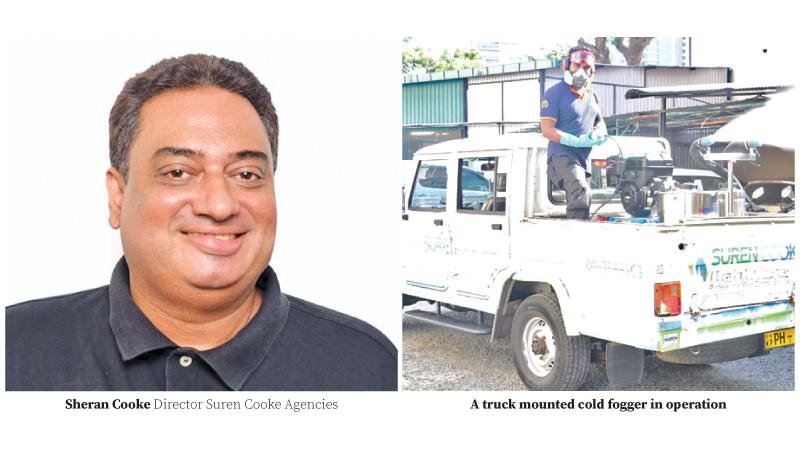 Director of Suren Cooke Agencies, Sheran Cooke said that cold fogging was a more cost effective method to eradicate mosquitoes and house flies in comparison to thermal fogging which has been practiced in the past.
Cooke said that cold fogging is done by diluting the insecticide Gokilath - S 5EC (manufactured by Sumitomo Chemicals) in water while thermal fogging is done by diluting the same chemical in either kerosene or diesel. The quantity of chemical needed for cold fogging is half of what is needed for thermal fogging.
In addition to being cheaper, using water would save precious foreign exchange needed to import kerosene or diesel. The other advantages of cold fogging is being more user friendly as it does not emit a thick fog, emits uniform droplet size and reduces the odour which at times is a hazard to motorists, the general public, household pets and other animals in the vicinity and eliminates fire hazzard.
Reading out from a technical guide issued by the US Armed Forces Pest Management Board, Cooke pointed out that generating the correct droplet size was paramount to successfully controlling flying insects. Over 90 percent mortality of house flies and mosquitoes could be achieved by space spraying droplets with median diameter between 8 to 15 microns using ground application equipment. He said that mosquito control efficacy dropped when the droplets were less than 5 microns or more than 25 microns in diameter. According to the technical guide droplets of a diameter of 30 microns are recommended to eradicate flying insects larger than mosquitoes and house flies. Cooke added that droplets between 8 to 15 microns in diameter will float in the atmosphere for over an hour before settling on the ground.
Cooke said that by mounting a fogger with adjustable nozzles on a pickup truck, a larger area could be treated in a shorter period of time.
He said that the whole of Royal College Colombo had been cold fogged within two hour and over fifty litres of diesel was saved. As the truck mounted cold fogger can cover a range of 80 metres from each nozzle, interiors of a building could be treated by simply keeping the doors and windows open.
Consultant Entomologist at Suren Cooke Agencies, Dr. P. H. D. Kusumawathie said that the distance a mosquito could fly varies with the mosquito species. She said that a dengue mosquito could fly a distance of approximately 100 metres and that normally public health officials would fumigate the area within a 200 metre radius from the residence of a dengue patient and if the patient was diagnosed with Malaria the area within a two kilometre radius would be fumigated. She said that even when fumigating as a precautionary measure effectiveness would increase proportionately with the area being treated.